Book Your Move Today & Get $50.00 Off
Are you looking for NJ movers,
storage or packing services?
No worries... We got you covered!
Fully insured & registered to give you that peace of mind.
USDOT # 2565534 – MC # 895809 – NJPC 001202
Book Your Move Today & Get $50.00 Off
Are you looking for NJ movers,
storage or packing services?
No worries... We got you covered!
Fully insured & registered to give you that peace of mind.
USDOT # 2565534 – MC # 895809 – NJPC 001202
What Service Are You Looking For?
Movers Bloomfield NJ Moving Company
Bloomfield is a beautiful little city in New Jersey full of nature and life. It's no wonder so many people want to move there.
Brookdale Park is a short drive from most residential areas in Bloomfield, and it's the third-largest park in Essex county. Watsessing Park is close by, too, which just so happens to be the county's fourth-largest park.
M&M has been helping families move to and from Bloomfield for over 25 years.
Aside from those two, you have the likes of Branch Brook Park and Eagle Rock Reservation.
It's the perfect place for a family of nature lovers to settle down, which is why we have dedicated moving services to help you get your life relocated to this natural epicenter.
You might be moving out of Bloomfield or to another location in Bloomfield, both of which we can help you do, too.
We've helped countless people move into their dream homes, and we hope that we can do the same for you. 

M&M Movers is a family-run moving company with over two decades of experience in the moving industry. We take pride in the quality of our services, which is why we're so highly regarded by families all over New Jersey.
We're BBB accredited and dedicated to bringing you the best possible moving experience no matter how far your journey is.
Our expert movers have earned numerous awards over the last 25 years, both from independent reviewers and reputable brands like Home Advisor. We treasure these accolades and aim to only increase our quality as time goes by.
There's more to our story than that, of course. If you're interested, we have more about our family and what we do over on our home page.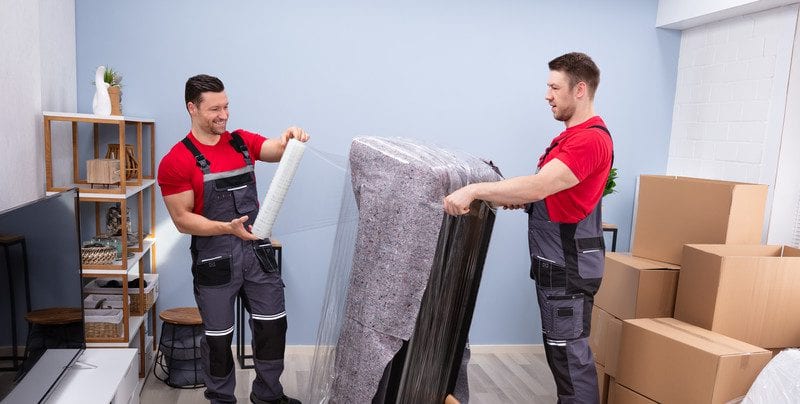 You don't need to understand the history of M&M to recognize the level of quality that we provide, though. Just take a look at some of the awards we've received over the years.
There's no greater joy for us than helping New Jersey families move into their dream homes, so don't hesitate to get in touch with us if you need to get your possessions from one place to another.
We work hard, and we work honestly. We operate our moving services on a 12 hour eight to eight basis, so don't be shocked if you see us around Bloomfield helping other families get themselves set up in their new homes.
We provide world-class moving services.
M&M Movers are, above all else, a moving company. However, we have a wide variety of services that go beyond that simple definition.
Specifically, we have five main services that we offer to families all over New Jersey:
⦁ Commercial Moving
It's not just families that need to relocate or move equipment; businesses need to, too. We understand that moving the tools that keep your business running is a massive responsibility, so we make sure that we take care of your gear.
We don't cut corners, so you don't need to worry about anything getting damaged or manhandled.
⦁ Residential Moving
Of course, we also cater to families looking to move into a new residential area. We love helping you to get to the next stage in your life, so we put 110% into every single residential move that we do.
No matter how much or how little you have coming with you, we can help you get your stuff to where it needs to go. 

⦁ Storage
Sometimes you don't actually need us to move things from point A to point B. Instead, you might just need us to store some things for you. That's okay with us!
Our facilities have state of the art security so don't worry about anything getting lost or stolen. We make an inventory list as soon as you store your items with us, so everything's going to be accounted for.
⦁ Packaging
An aspect of moving that people never really think about is the packaging. You might think it's just a matter of throwing your things in boxes, but it's much more complicated than that.
You need to package everything to make sure that nothing gets damaged and so that you know where everything is. We're professional movers, so tasks like that are our bread and butter.
⦁ Office Relocation
Similar to commercial moving, office relocation is a massive undertaking. You're working with a lot of expensive equipment, and we respect that.
Everything in your office, from the computers all the way down to your pens and paper, is going to be well looked after when you move with M&M.
Why You Should Trust M&M as Your Professional Moving Company
We have over 25 years of professional moving experience under our belt. We're a tightknit family run business that understands how impactful moving can be on your life.
We take the trust you put in us very seriously, which is why we make sure every single little aspect of your move is taken care of for you.
Every single mover under the M&M name is an expert at what they do. That combined experience guarantees that every single client we work with is satisfied with their move.
We have a whole fleet of trucks on standby, so we're able to work around your schedule no matter how frantic it is.
We pride ourselves on the customer service that we deliver, and all of our movers feel the same way. We make sure that every single worker that we bring into the M&M brand is incredibly friendly and helpful.
More than that, though, we ensure that all of our movers are fully trained, licensed, certified, and bonded.
All of the training that we provide is world-class, meaning you're guaranteed expert service every time you use us.
Being bonded also means that your possessions are covered in the rare event that anything goes wrong. The money is already there to take care of any damages, but the chances are that it isn't going to come to that.
We're ready, willing, and able to help you move wherever you are in New Jersey, not just in Bloomfield.
Give us a call at (732) 250-0869, and we can talk more about what we can do for you.
Over 27 years of experience.
Free in-home estimate.
Professional uniformed staff.
Disconnect or connect appliances.
Full service packing & unpacking.
Crating of antiques & fine art.
Disassembling & reassembling.
Moving blankets for furniture.
Loading & unloading.
Mileage & taxes.
Basic value protection.
Clean trucks.
Friendly movers.
Quality service.
3 free wardrobe box rentals on moving day.
Fully insured & registered to give you that peace of mind.
USDOT # 2565534 – MC # 895809 – NJPC 001202
A Few Good Words From Our Clients
M&M Movers was fantastic. They were fast... read moreM&M Movers was fantastic. They were fast and super friendly. I have never moved before so I was naturally pretty nervous but they were able to ease my nerves on move-in day. I'm really happy I found this moving company and would absolutely recommend to others! read less
I am just getting to this review,... read moreI am just getting to this review, as this is the second time I used M&M movers back in May 2019. They did a great job getting everything moved over. The only difference which was annoying hence one star off is the workers that I got this time around. I had two young guys which worked, but were taking cigarette breaks in the middle of the move. I had a time in which I needed to move from my building to my house. We exceeded the time in the building and another family started moving in. My wife and were waiting for them to finish, I went outside to find them in the truck smoking. Another pain point was when we moved to the new house, they unloaded everything and everything was measure before we moved in. They however stated that the box frame would not fit up the stairs.. going as far as saying I needed to buy a new one and on and on. I frankly was already pissed with the initial delays realizing that these guys were just lazy movers, which I know is contradictory but yes it possible. I had them leave it upstairs and I moved it up by myself with no alterations to anything same hall way, same box frame. Again they just lacked a certain focus for this job hence why I took one star. Everyone else from especially Natalie has been great so far. read less
I hired M & M Movers based... read moreI hired M & M Movers based on online reviews. They provided me a very competitive quote and I hired them instantly. My crew arrived come 5 minutes before the given time. They worked harmoniously around my house packing up everything into boxes. They packed my furniture very creatively too. They were amazingly fast at loading everything. They made the delivery in exactly in timely manner. All my belongings were unharmed and it was a very stress-free move overall. read less
Fully insured & registered to give you that peace of mind.
USDOT # 2565534 – MC # 895809 – NJPC 001202
Training Day @ The Office
Get Your Free Moving Quote & Coupon
Get Your Free Moving Quote & Coupon